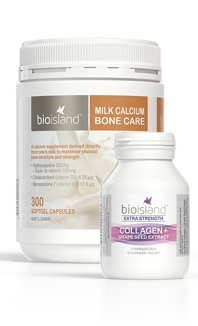 RETRACTION
An online advertisement for Bio Island Extra Strength Collagen + Grape Seed Extract published on this website in August 2015 and Bio Island Milk Calcium Bone Care published on this website in 2016 was the subject of a complaint to the Complaints Resolution Panel.

The Panel found that claims and references in the online advertisement made in relation to serious diseases, conditions and disorders, including osteoporosis, fibroids, ovarian cysts, breast hyperplasia, breast cancer and some gynaecological disorders were misleading and breached the Therapeutic Goods Advertising Code and should not have been made.

These claims and references were removed from the website in or around August 2016 and the Panel requested that JBX Pty Ltd (trading as Bio Island) publish a retraction. The full text of the Panel's determination can be found at: www.tgacrp.com.au/complaints (reference 2016/01/005).

Following referral to the Therapeutic Goods Administration, JBX Pty Ltd agreed to publish this retraction.